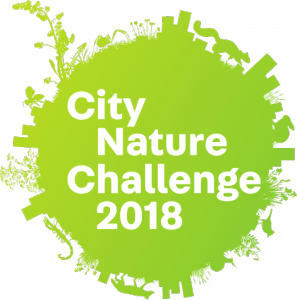 April 27 – April 30, 2018
CONGRATS to the winner of the City Nature Challenge 2018…San Francisco Bay Area!
Worldwide nearly 70 cities participated in this year's challenge, cataloging nearly half a million observations of over 18,000 taxa. San Francisco Bay Area led the pack with 41,795 observations of 3,211 taxa contributed by 1,532 people. View the leaderboard here.
In the Chicago Wilderness Region, we had:
*6,870 observations
*1,017 taxa (921 at species or below)
*353 observers
*256 identifiers
*16 public events, at least 2 private events
View all the Chicago Wilderness region observations and stats here:
https://www.inaturalist.org/projects/city-nature-challenge-2018-chicago-wilderness-region
Of our observations, 58% reached research grade, 34% still need identification, and 9% either didn't have photos/audio or were captive/cultivated organisms (or something else made them casual grade). Over 64% of the species were plants (69% of observations) with birds following up at 13% of the species (15% of observations). The most observed species were all charismatic native woodland spring flora: mayapple, bloodroot, white troutlily, spring beauties, and bluebells.
Survey: If you participated in the City Nature Challenge 2018, please take this online survey: https://goo.gl/Ujg4sv
CNC 2019: If you or your organization wants to take the reins for the CNC in the Chicago Wilderness region in 2019, please shoot a message to cassisaari@gmail.com. You can also sign up to get information from the international organizers for 2019 by providing an email address here.
---
Previously…
Join the City Nature Challenge 2018: Chicago Wilderness Region! From April 27th through April 30th, 2018, over 60 urban regions worldwide will be competing to see who can make the most observations of nature, find the most species, and get the most people participating. Download the iNaturalist app and check out citynaturechallenge.com.
How to Participate
1. Visit iNaturalist.org and download the iNaturalist app (App Store and Google Play)
2. Create an account and follow the City Nature Challenge 2018: Chicago Wilderness Region project
3. Between April 27th and April 30th, 2018, find and take pictures of wild plants, animals, fungi, slime molds, and other creatures. That includes the organisms themselves, living or dead, or any other evidence of life such as scat, fur, tracks, and shells! Our boundaries are defined by the "Chicago Wilderness region," which includes most of northeastern Illinois and parts of northwest Indiana, southwest Michigan, and southeast Wisconsin (see map below).
4. Get feedback and identifications on your observations from actual scientists, experts, and other naturalists. No previous experience required.
Join an Event!
***all times below are local!***
Date
Event Title
Address
Description
More Info
4/27/2018 - 4/30/2018
On your own!
Anywhere in the Chicago Wilderness Region
Observe nature anywhere in the Chicago Wilderness region on your own between 4/27 and 4/30 (96-hour period)! Just submit your observations with the iNaturalist app or website.
Scroll up!
4/28/2018
8AM to 10AM
Sand Ridge Nature Center Bird Walk
Illinois, Cook County
15891 Paxton Ave, South Holland (map)
Great for migrating passerines as well as year-round woodland species like Tufted Titmouse, Carolina Wren, and Barred Owl.
Contact Andrew Aldrich with questions at 630-803-1590 (link)
4/28/2018
8AM to 12PM
Lincoln Park Zoo Mini BioBlitz
Illinois, Cook County
Lincoln Park Zoo, 2001 N Clark St, Chicago (map)
Lincoln Park Zoo has more than just lions and lemurs. Come discover all of the wildlife the zoo has to offer in the first Lincoln Park Zoo BioBlitz! Participants will get to work with the Urban Wildlife Institute, Horticulture, and Learning teams to investigate and record the plants and animals throughout zoo grounds.
RSVP on EventBrite
4/28/2018
9AM to 12PM
City Nature Challenge at the Evanston Ecology Center
Illinois, Cook County
2024 McCormick Blvd, Evanston (map)
Drop-in nature walks through the Ladd Arboretum. Evanston Ecology Center staff will be available to help participants download and use the iNaturalist app and guide them to wildlife hotspots nearby.
Evanston Ecology Center, 847-448-8256
4/28/2018
10AM to 1PM
Bioblitz Warren Woods
Michigan, Berrien County
Warren Woods State Park (map)
Wander through Warren Woods shady beech-maple forests and find plants uncommon on the Illinois side, such as dwarf ginseng, long-spurred violet, and red elderberry.
See habitat2030.org/events or join the iNaturalist Project
4/28/2018
10AM to 1 PM
City Nature Challenge Bioblitz at Somme Woods
Illinois, Cook County
Somme Woods, 1714 Dundee Rd, Northbrook (map)
Somme Woods in springtime! We will look for plants, fungi, creatures - and record them as part of the City Nature Challenge. Knowledgeable nature nerds, learners that know some local species, and beginners - all are welcome.
Eriko Kojima, erikokojima@gmail.com, 847-322-7420
4/28/2018
10AM to 1 PM
Rainbow Beach Dunes Bioblitz
Illinois, Cook County, Rainbow Beach Dunes, Chicago (map, directions)
Join friends, neighbors, and UChicago students for a dune bioblitz. Experts, novices, families, welcome.
rbdstewardship@gmail.com
4/28/2018
10AM to 1PM
Outdoor Adventures: Following Migration
Illinois, Cook County Jurgenson Woods (map)
Embrace your inner birder and help search for spring migrants. Learn why birds migrate, basic bird identification, and more. Enjoy bird hikes and bird themed games as well as artmaking projects. All ages welcome!
Contact Stephen.DeFalco@cookcountyil.gov or 312-533-5729 (link)
4/29/2018
7:30AM to 5PM
Columbus Park Bioblitz 2018
Illinois, Cook County
Columbus Park, 5701 W Jackson Blvd, park near refectory
(map)
Join enthusiasts and experts on various "crews" to document nature at Columbus Park. Meet behind the Refectory at the appointed time:
7:30AM-9:00AM: Birds with the Gyllenhaal family
9:30AM-12:30PM: Plants, soil life, mushrooms, insects
1:00PM-3:00PM: Trees with Openlands Treekeepers
1:00PM-3:00PM: Aquatic life
Join the Columbus Park Bioblitz 2018 Project on iNaturalist and sign up for a bioblitz timeslot.
4/29/2018
8AM to 1PM
Bioblitz of Sand Ridge and Burnham Greenway
Illinois, Cook County
15891 Paxton Ave, South Holland (map)
Meet at Sand Ridge Nature Center to join a bioblitz of Sand Ridge and Burnham Greenway sites.
Edward Warden, edwarhzan@gmail.com
4/29/2018
9AM to 12PM
Bioblitz Harms Woods
Illinois, Cook County
Harms Woods, meet in Glenview Woods parking lot (map)
Harms is one of the best spots for spring wildflower sightings in the region, as well as a great place to spot spring migratory birds, especially warblers.
Join the iNaturalist Project; contact ehaase1@hotmail.com with questions
4/29/2018
10AM
Spring Flora Hike at Camp Shaw-Waw-Nas-See (Morning)
Illinois, Kankakee County
Camp Shaw, 6641N 6000W Road, Manteno (map)
Meet at pavillion near parking lot. Should be lots to see along Rock Creek.
j9-catchpole@comcast.net
4/29/2018
12PM
City Nature Challenge Perry Farm
Illinois, Kankakee County
Perry Farm Park, 459 N. Kennedy Drive, Bradley (map)
Meet by the exploration station. We should explore the prairie, the woods by the river and the dolomite cliffs. Log plants, birds, fungi, whatever you encounter!
309-351-8813
4/29/2018
1PM to 3PM
City Nature Challenge & Photo Scavenger Hunt at Gibson Woods
Indiana, Lake County
Gibson Woods, 6201 Parrish Ave, Hammond (map)
Log nature observations at Gibson Woods in Hammond, IN. Bring a camera or phone and pick up a scavenger hunt list at the Environmental Awareness Center (EAC) at Gibson Woods. Hit the trail and see what you can spy... catch it with your camera and bring your completed list back to the EAC for a small prize.
219-844-3188 or carync@lakecountyparks.com
4/29/2018
2PM
Spring Flora Hike at Camp Shaw-Waw-Nas-See (Afternoon)
Illinois, Kankakee County
Camp Shaw, 6641N 6000W Road, Manteno (map)
Meet at pavillion near parking lot. Should be lots to see along Rock Creek.
j9-catchpole@comcast.net
4/29/2018
4PM to 9PM
Night Hike at Bob Mann Woods/Salt Creek Nature Preserve
Illinois, Cook County
801 N Edgewood Ave, La Grange Park (map)
Join Shedd Aquarium experts on a bioblitz of Bob Mann woods. We'll take a close up look at what lurks in Salt Creek and a rare opportunity to look for bats and owls after dark.
Edward Warden, ewarden@sheddaquarium.org
5/1/2018
7PM to 9PM
City Nature Challenge Observation Verification Night!
Illinois, Cook County
near Cermak & Leavitt (must RSVP for address)
Gather with us to verify the gargantuan number of iNaturalist observations coming in! Bring a computer, any keys you may need, and a snack if you please. All are welcome regardless of skill level.

RSVP by emailing renhen2@gmail.com for the address.
Resources & Links
Chicago Wilderness Region Partners
Contact
Questions and comments can be directed toward cassi saari (Chicago region) or the international organizers.