Driving along 31st Street in suburban Westchester, Cook County, Illinois, you may notice the Forest Preserve District sign on the south side of the road proclaiming "Bob Mann Woods." The sign is not situated in a woodland, but in what we call a "Eurasian meadow" or "old field" habitat. Looking at the state aerial photograph taken in 1938, the north part of Bob Mann Woods was indeed a farmer's field at the time. The woods proper began closer to Salt Creek.
Who was Bob Mann? I associate the name with two vintage Forest Preserve projects, one being a spiral bound typescript with the unwieldy title: "Origin of Names and Histories of Places – Including Major Forests and Holdings, Picnic Areas and Recreational Facilities, Nature Preserves, Aquatic Areas and Wildlife Refuges in the Forest Preserve District of Cook County, Illinois." This document was compiled between 1964 and 1965 by Roberts Mann. A brief biographical information states that Mann was hired by the Forest Preserve District of Cook County (FPCC) on October 30, 1930 as assistant to the chief construction engineer. He was appointed superintendent of maintenance in 1932, became superintendent of the newly formed conservation department in 1945, and was succeeded by Roland Eisenbeis in 1954, at which time Mann served as conservation editor until retirement on October 31, 1964. The booklet concludes with the notation, "Si monumentum requiris, circumspice" – if you seek a monument, just look around.
The other enterprise was the Forest Preserve series of Nature Bulletins: brief, topical periodicals that started in 1945 (along with the creation of the conservation department). Originally they were a weekly publication, a frequency that proved unsustainable – they evolved to a nominally monthly bulletin. Like the "Origin of Names…" document, they featured a casual yet immersed writing style that packed an amazing amount of information – ecological, historical, geological, sprinkled with a body of folksy knowledge called "lore" – into a single page format. At the time many thousands of copies were distributed to area schools, libraries, and later at the FPCC Nature Centers. I originally discovered the Nature Bulletins when they were archived at Argonne National Lab's NEWTON website. This site was turned off in 2015, but they are now available at a mirror site.
These bulletins contain what one might term classic Mannisms, including Latin quotes, tributes to other notables in conservation, innumerable pleas to get out into the preserves, and some contextual viewpoints that he no doubt would have modified had he lived to our times (e.g., his adamant opposition to burning natural areas).
Nature Bulletin No. 335 (Hollow Trees): "Natura non facit saltum (nature makes no jumps)"
Nature Bulletin No. 701 (Aldo Leopold): "We can honor him most by assuming personal responsibility for the welfare of the land."
Nature Bulletin No. 551 (Woodlands for Pleasure): "Thus, the recreational forester regards a woodland as a community, complete in itself, where each and every species of plant and animal, living or dead, contributes to the growth, stability and beauty of the whole. He believes in letting Nature alone, and patiently permits her to solve her own problems and work out her own complex system of checks and balances."
Had Mann witnessed the catastrophic extent of The Great Buckthorn Invasion, he undoubtedly would have changed that tune.
When I found that the Chicago Tribune had a beta version of their archive online, I did a search on Roberts Mann. To my surprise I found that from 1956 he was a regular contributor to the newspaper. On occasion he would borrow from a Nature Bulletin in working up a longer column. Bulletin No. 570 (Walking) covered a subject close to Mann's heart. The FPCC version includes a somewhat esoteric literary reference: "A child is doubly fortunate if that parent loves the out-of-doors, has a feeling of kinship with the soil, is familiar with the trees and smaller plants, knows the secret of wild creatures, and whose pathless ways of walking might be described by Arthur Sidgwick's verse:
For us the path that twists at will,
Through wood and field and up the hill"
For his Tribune feature (June 7, 1959), Mann repeated some of the same text. However in place of Sidgwick's poem we instead read: "In five preserves notable for their trees, wildflowers, and other features, there are self-guiding nature trails leading from highway entrances marked with a sign: WOODLAND TRAIL – for Health, Relaxation, and Fun – TAKE A WALK." As an avid walker of the preserves I wonder where these signs were posted, or if any survive.
Other Tribune columns were conceived entirely apart from the Mann of the Nature Bulletins and report in detail on his seasonal findings. Sprinkled through columns in the 1950s are references to his home at "Punkin Knob," bordering what was then Cantigny Woods in southwest Cook County (today called Arie Crown Forest; this corner of the site disappeared with construction of the Southwest – aka Stevenson – Expressway).
April 15, 1962: "The bluebird is my favorite harbinger of spring and I haven't seen one since 1958 when my wife and I lived at Punkin Knob in the forest preserve at 71st street and La Grange road. Every year a pair nested in a hole they had pecked out in a dead cherry tree."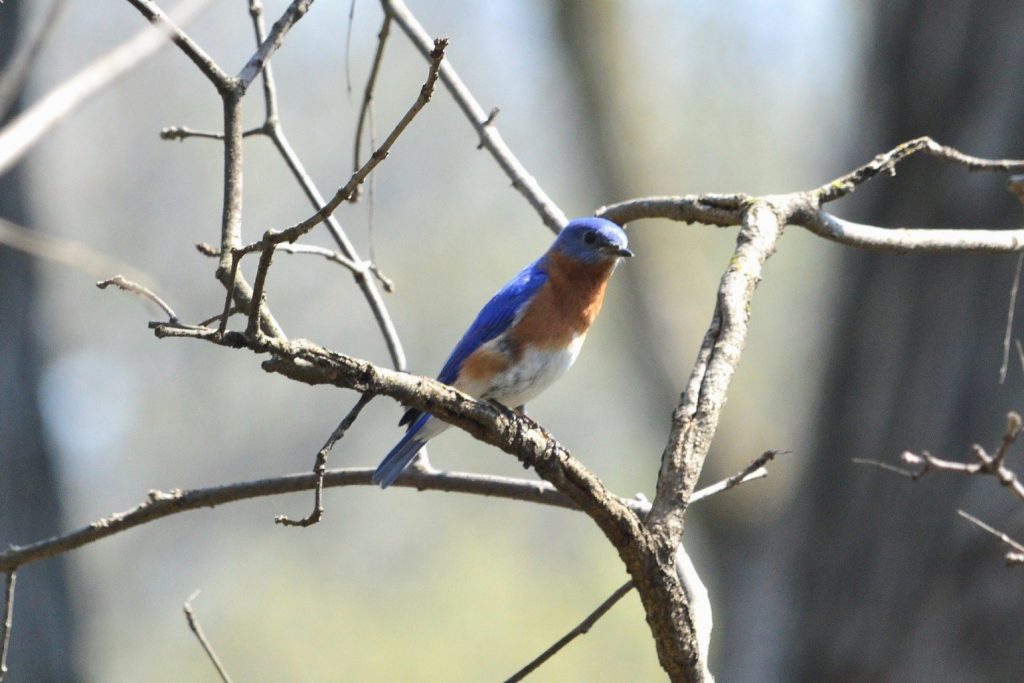 Mann would have been thrilled to learn of the bluebirds' return across Cook County; they nest every year in Ted Stone Forest Preserve across La Grange Road. Other Mann observations unfortunately describe places whose wonders have all but vanished.
July 6, 1958: "In La Grange Park Woods, along Salt Creek, I found a lot of the fire pink [Silene virginica]…"
Today, alas, La Grange Park Woods is the archetype of a formerly grand oak woodland whose understory is densely choked with buckthorn and honeysuckle.
But I still did not feel that I had found Bob Mann, even after I stumbled upon his obituary (May 2, 1975). In addition to the biographical tidbits I already knew, this told me that he had grown up on a farm in Schuyler County, studied Engineering at Bradley and Cornell University, and that he and his wife lived at 905 Edgewood Avenue in LaGrange Park. I was not familiar with the address as such but Google informed me that it was a place I had visited many times.
The Salt Creek Bicycle Trail is familiar to cycling and running enthusiasts. South of 31st Street it encompasses a road-like stretch and a few remnants of old driveways lead east from the pavement. One house remains here at the corner of 31st and this now vacated stretch of Edgewood Avenue. On a crisp fall morning, I went out in search of Bob Mann.
At the south end of the former Edgewood Avenue there is an old gravel driveway leading east to a concrete slab. I am not archeologist enough to know whether the slab is a remnant of the garage or the house foundation. The former yard is dominated at one side by a huge Catalpa tree, and its progeny are scattered thickly around the property. The view to the west includes the grand trees of the forest preserve, where Mann took daily walks in all kinds of weather. In fact a path winds west from the driveway site all the way to a prairie/sedge meadow complex south of Mayfair Avenue. (The prairie/sedge meadow area was at one time designated as a future addition to the Salt Creek Nursery, but fortunately that was not fulfilled.) This morning the sun illuminated the autumn foliage in the treetops (with the moon still visible above the trees), numerous birds were singing, and as I prowled around Mann's former homesite the chipmunks and squirrels darted through the undergrowth.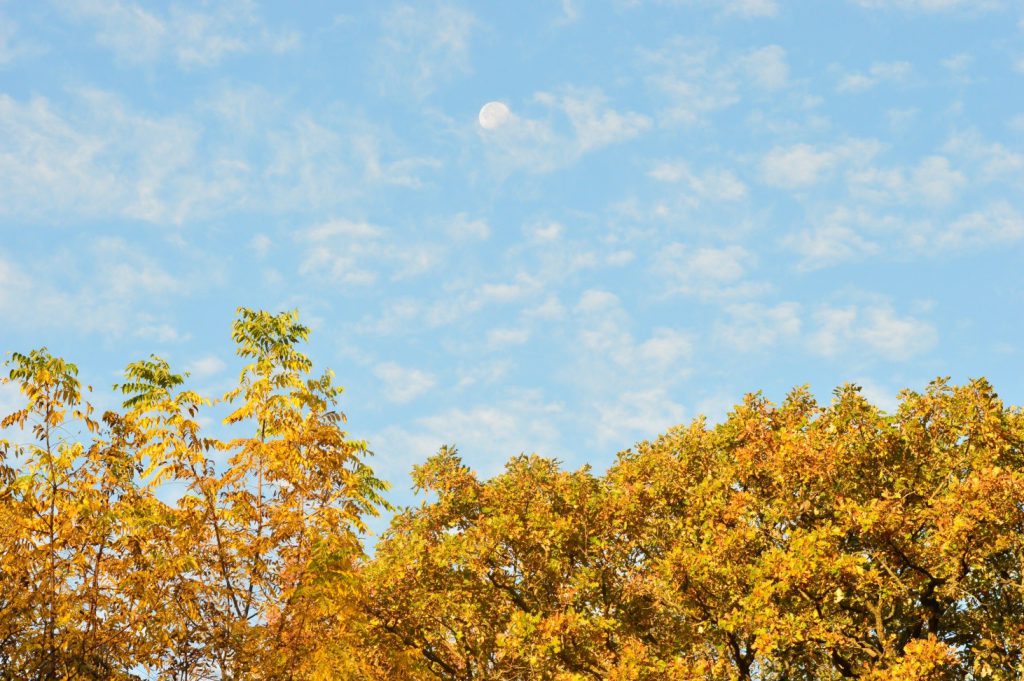 Mann's first Tribune column following his retirement maintained his style and substance, describing meticulous observations near his home at Salt Creek/Bob Mann Woods.
November 15, 1964: "The old 20-acre field south of 31st Street is populated with hawthorns and chokecherries. In them, so far, I have discovered 37 nests built by cardinals, catbirds, grackles and mourning doves. In the crotch of a sapling is the cup-shaped nest of a goldfinch – fashioned with grass and milkweed floss; lined with thistledown…"
This field and the nearby homesites were designated "Property to be Acquired" on the 1941 Forest Preserve Master Plan drawing of Salt Creek Woods. It is this field where Mann must have spent many hours that bears the FPCC sign today.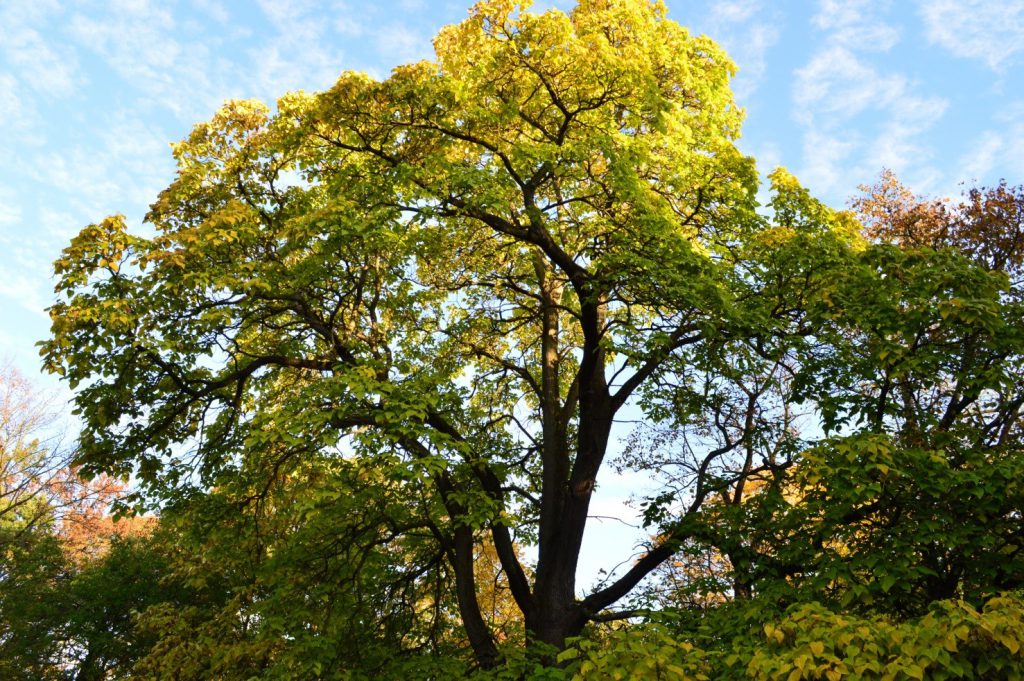 Not all of Mann's writings were intended for publication. In the 1940s he carried on a lively correspondence with Aldo Leopold at the University of Wisconsin. Numerous letters are online at the Aldo Leopold Archives.
Curt Meine, Leopold's biographer, described Mann in vivid terms: "Mann was a boisterous, jovial man, a superb field naturalist and veteran of Chicago politics, possessed of a booming voice and a wild shock of snow-white hair." Meine quotes one of Leopold's colleagues to the effect that if anyone could be called a disciple of Aldo Leopold, it was Roberts Mann. There is more on the Mann-Leopold relationship at the FPCC blog.
Mann's periodic newspaper columns continued into 1967, after which he would pen an occasional item for the Tribune's "Voice of the People" page. Eventually these too ebbed. Roberts Mann died on May 1, 1975, at the age of 83. The Tribune obituary referred to him significantly as "Naturalist Roberts Mann," rather than just a Forest Preserve employee. Mann set some lofty standards for a naturalist in a 1947 letter to Leopold:
"A naturalist…should have these qualifications: (1) broad general training in the biological sciences; (2) preferably a specialist in one; (3) essentially an ecologist; (4) training in teaching methods and psychology; (5) thorough training in public speaking (more than just one course); (6) must like people; (7) must have the peculiar knack of talking to and interesting kids; (8) preferably a farm boy or at least a small town background, because as Hal Boyle says, 'The country lad's the smart boy. He never falls victim to the chief crime of modern city life, which is to become a stranger to the land.'"
An editorial feature in the May 7, 1975 Tribune detailed his legacy: "Roberts Mann loved the woods, and taught others to love them, too. It surely gladdened his heart that his enthusiasm for nature became increasingly widely shared as he grew older, in part because of his own good work." Mann's wish was that his ashes be scattered in Salt Creek Woods, and it is here, and in the many thousands of acres of nature in the Chicago area, that we can find Bob Mann.
All photos by the author, all rights reserved.
The following two tabs change content below.
Mark Kluge
Mark Kluge began environmental restoration work with The Des Plaines River Valley Volunteers in 2006. He was certified by FPCC as a Master Steward in 2009, and currently serves as co-steward at Theodore Stone Forest Preserve in southwest suburban Hodgkins. He is a member of the Stewards Council Steering Committee representing the South Cook County region.
Latest posts by Mark Kluge (see all)