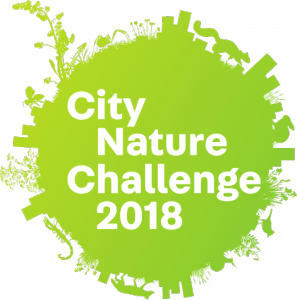 Join the City Nature Challenge 2018: Chicago Wilderness Region! From April 27 through April 30th, 2018, over 60 urban regions worldwide will be competing to see who can make the most observations of nature, find the most species, and get the most people participating! Download the iNaturalist app and check out citynaturechallenge.com.
How to Participate
1. Visit iNaturalist.org and download the iNaturalist app (App Store and Google Play)
2. Create an account and join the City Nature Challenge 2018: Chicago Wilderness region project
3. Between April 27th and April 30th, 2018, find and take pictures of wild plants, animals, fungi, slime molds, or any other evidence of life (scat, fur, tracks, shells, carcasses!) in the Chicago Wilderness region, which includes most of northeastern Illinois and parts of northwest Indiana, southwest Michigan, and southeast Wisconsin.
4. Get feedback and identifications on your observations from actual scientists, experts, and other naturalists. No previous experience required.
Join or Plan an Event!
more events to be added
Date
Event Title
Address
Description
More Info
4/27/2018 - 4/30/2018
On your own!
Anywhere in the Chicago Wilderness Region
Observe nature anywhere in the Chicago Wilderness region on your own between 4/27 and 4/30 (96-hour period)! Just submit your observations with the iNaturalist app or website.
Scroll up!
4/27/2017
4PM to 8:30PM
Night Hike at Bobb Mann and Salt Creek
(exact location TBA)
Night hike bioblitz and pond dip in Salt Creek with Shedd Aquarium staff
Edward Warden, edwarhzan@gmail.com
4/28/2017
9AM to 12PM
City Nature Challenge at the Evanston Ecology Center
Illinois, Cook County
2024 McCormick Blvd, Evanston (map)
Drop-in nature walks through the Ladd Arboretum. Evanston Ecology Center staff will be available to help participants download and use the iNaturalist app and guide them to wildlife hotspots nearby.
Evanston Ecology Center, 847-448-8256
4/28/2017
10AM to 1PM
Bioblitz Warren Woods
Michigan, Berrien County
Warren Woods State Park (map)
Join us on a ramble through Warren Woods shady beech-maple forests and find plants uncommon on the Illinois side, such as dwarf ginseng, long-spurred violet, and red elderberry.
See habitat2030.org/events or Facebook event
4/29/2017
7:30AM to 1PM
Bioblitz of the Burnham Greenway
(exact location TBA)
Nature hikes and bioblitzes multiple Burnham Greenway sites with Shedd Aquarium staff
Edward Warden, edwarhzan@gmail.com
You can plan your own event during the City Nature Challenge! Here are a few ideas. Contact us to get your event added to the list.
incorporating the CNC/iNaturalist into your already-planned event from nature hikes to restoration workdays to your science class curriculum during the timeframe
organizing a bioblitz
documenting invasive species at your stewardship site
planning a guided nature hike
organizing an urban nature pub crawl
holding an "identification party" where folks bring their laptops and hang out while helping identify plants, animals, and other creatures on iNaturalist
Resources & Links
Chicago Wilderness Region Partners
Contact
Questions and comments can be directed toward cassi saari (Chicago region) or the international organizers.